My Little Scythe
$65.00 CAD
Regular price
$75.00
Pie in the Sky Discount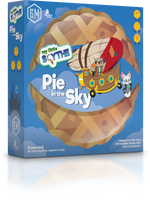 Get My Little Scythe with the expansion and save 25%!
Bundle Product: 40090621968566
Current Product: 40090601029814

Add Bundle to Cart
Stonemaier Purchase Promise
20-day price guarantee
Free replacement parts
Real-time rule support in forums
My Little Scythe
My Little Scythe is a competitive, family-friendly game for 1-6 players in which each player controls 2 animal miniatures embarking upon an adventure in the Kingdom of Pomme.
In an effort to be the first to earn 4 trophies from 8 possible categories, players take turns choosing to Move, Seek, or Make. These actions will allow players to increase their friendship and pies, power up their actions using upgrade tiles, complete quests, learn magic spells, discover precious resources through an innovative dice mechanism, deliver gems and apples to Castle Everfree, and perhaps even engage in a pie fight.
Some of My Little Scythe's mechanisms are inspired by the bestselling game, Scythe. It caught the eye of Stonemaier Games as a fan-created print-and-play game in 2017 (it went on to win the BoardGameGeek 2017 award for best print-and-play game).
---